This is an honest assessment of the SEO strategy and status of the SEO health of this site. This will be a regularly updated monster of a post, with a table of anchor links to the various sections covering the various aspects of SEO for this project. My goal is to create awesome "build in public" case studies like this seo success by Ryan Darani.
Why have an ongoing SEO case study? ?
I've been doing SEO for small sites, large sites and everything in-between for years. As I sat in the car this last week on a vacation to Destin with my wife, I envisioned what I wanted out of the next three years and realized that I really do believe in the capability and quality of my keyword forecasts and want it to succeed in a big way.

That means taking this project seriously from an SEO perspective, instead of an on-off, side project I want to treat it to the same level of attention and execution as I've done for my paying freelance SEO clients.
So here we go.
I'm going to actively update this singular post, with my efforts to gain the organic traffic, and paying customers that I need to make this service into my primary income source, and step back from regular SEO consulting.
I'm going to include the resources I read on these topics, drop links to blog posts, embed relevant tweets and maybe even add videos. Hopefully, while I hold myself accountable for taking this project off the ground someone else can learn from my mistakes and lessons I have and will undoubtedly learn.
Wish me luck!
Table of Contents ?:
KPIs, Metrics & Analysis

What KPIs matter to this project

Keyword Research

Content Strategy
On-page optimization

Technical SEO

Information Architecture
Site Speed, Core Web Vitals
Ricketa Racketa, the odds and ends of tech SEO

Link Building
An Honest STARTING SEO assessment?

Let's pull back the curtain! Here's the last 3 months of organic search console data: https://docs.google.com/spreadsheets/d/1HsKoA7_PpnO7PH50Zdp88P-7f2MGb7DzZw52854fykc/edit#gid=1601408951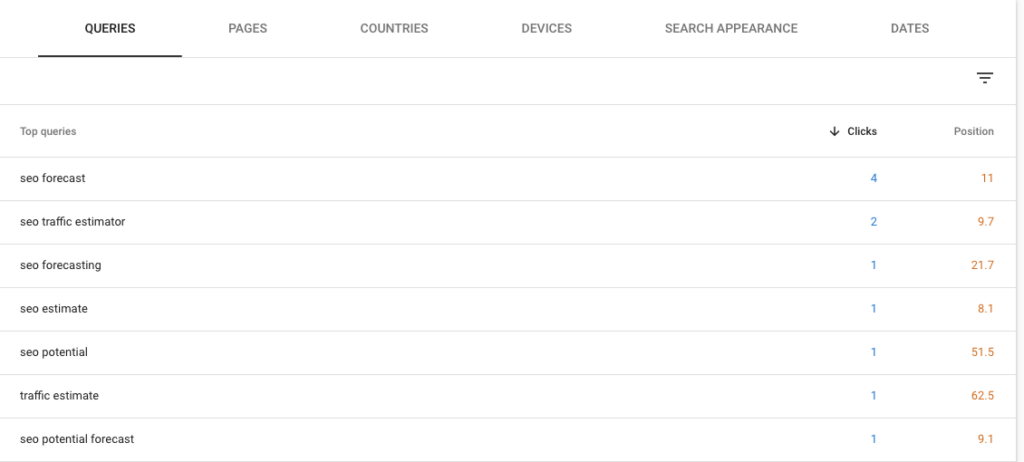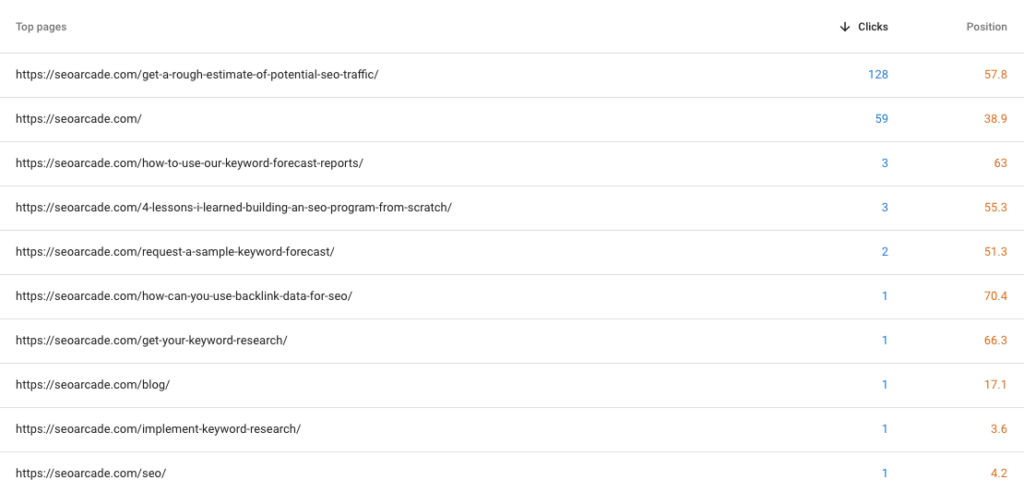 On the Spot Insights & Tasks
Can I make edits to reclaim top ranking for SEO traffic estimator
Run Reports for other main target phrases
Suss out more terms to expand from Search Console data
Establish topical universe of keywords to come up with target content to write
*Updated 4/26
My Unique Selling Proposition – Forecasting a "Keyword Universe"'s ? potential
Kevin Indig dug into why search volume by itself is a dangerous metric, and I think my approach to making a small universe of relevant keywords for each target service and estimating potential is a viable keyword research method, and fulfills a legitimate need in the crowded SEO SAAS space.
Here's the terms and phrases I've been thinking about as relevant to my service.
In short, my keyword service looks at the top 10 urls for a target phrase, grabs the top 100 keywords from them and spits out a Google sheet that calculates an organic CTR, conversion rate, sale rate & revenue per sale.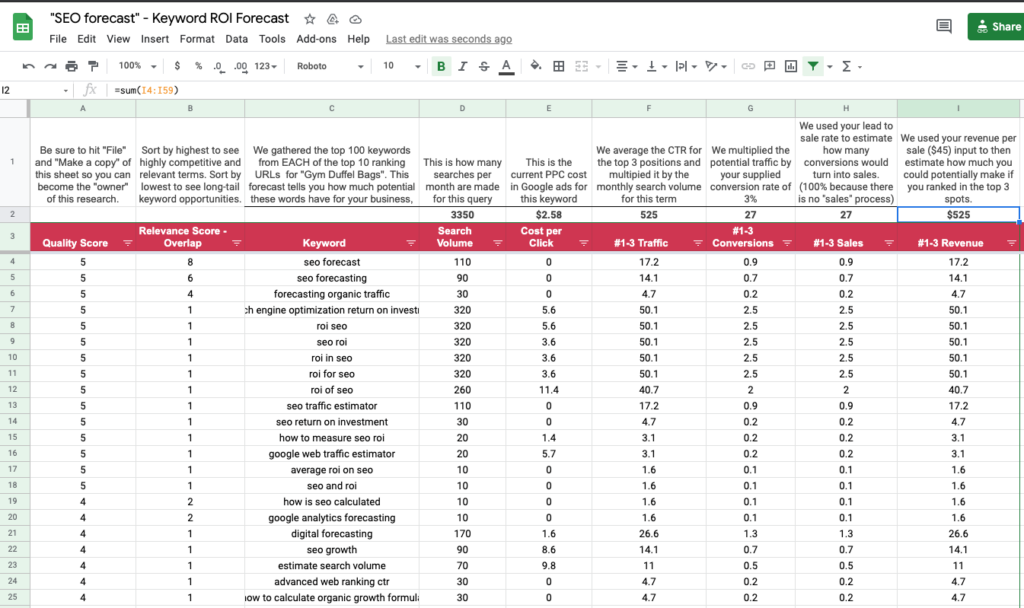 So for just that one angle, of "SEO forecasts", it's important to keep in mind that this sheet is averaging the traffic for those top 3 rankings. So it's a very "soft" target. But in that specific niche set of terms, we've got enough juice to make something like 27 sales per month potentially more with the longtail, higher conversion keywords.
*Updated 4/26