How Do You Find & Fix Broken Links?
Check for broken external and internal links

Look at your redirect plugins. They will often keep a log of 404 errors.
Look at your "log files," if you have them configured, to spot traffic to pages that no longer exist.
Run a crawler of your choice and get your list of broken links.
Check with a 3rd party tool like aHrefs, Semrush, SEO Clarity, etc. that has external link data, to find links to pages on your site that no longer exist.
Check Google Search Console for your 404 errors. It has been discovered.

If the page was actually SUPPOSED to exist, recreate or restore it. If you're recreating it, then you might as well improve on it.
If you cannot or do not want to restore the page, that's when you want to add a 301 redirect.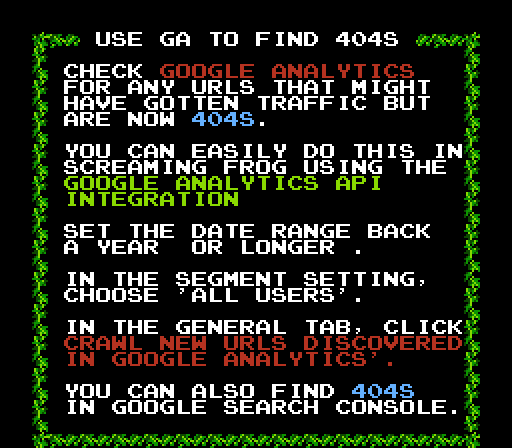 Max Peters of Technical SEO consulting also had this to add: Check Google Analytics for any URLs that might have gotten traffic but are now 404s. You can easily do this in Screaming Frog using the Google Analytics API integration:
Set the date range back a year (or longer).
In the Segment setting, choose "all users'.
In the general tab, click 'Crawl New URLs discovered in Google Analytics'.
You can also use Screaming Frog in a similar way to find 404s in GSC.
---
Learn how to solve other SEO issues
Twitter is an amazing SEO resource. These are other recaps of answers to common SEO questions or challenges I see floating around the Twitterverse, to quickly vanish. Here are some recent #seobits I've created to capture these ephemeral threads for future reference.