In an industry where people are constantly screaming, "backlinks are king!" and "E-A-T is queen", you're probably wondering why on-page SEO matters at all anymore.
Well, the truth is that on-page search engine optimization is more important than ever.
And in many ways, it helps your content get ranked faster and easier for a lot of different keywords that can grow your business.
So in this post, we're going to cut through the industry noise and focus on answering this question: why is on-page SEO important?
By the end, you'll know how on-page SEO can be beneficial for your website and walk away with several tactics you can use right now to increase your keyword rankings and traffic.
Let's dive in!
What Is On-Page SEO?
On-page SEO is a search engine optimization strategy that focuses on optimizing individual elements on a web page to rank higher to earn organic traffic from search engines like Google.
On-page SEO is different from off-page SEO because optimizations happen on-site, which is why it's also referred to as "on-site SEO".
Why Is On-Page SEO Important?
On-page SEO is important because it helps search engines understand your content better and be able to match it to specific queries. Without good on-page SEO, your content will be harder to analyze and index for the target keywords you want the page to rank for in Google.
You can see direct evidence of this in Google's documentation on How Search Works:
"The most basic signal that information is relevant is when a web page contains the same keywords as your search query. If those keywords appear on the page, or if they appear in the headings or body of the text, the information is more likely to be relevant."
Therefore, you must focus on good on-page SEO if you want to rank high in Google Search. They make it very clear that keywords on the page are a ranking factor in the algorithm.
What Are Some On-Page SEO Factors?
There are several places you can take your keyword research and optimize a web page for SEO. Below are the most important on-page SEO factors:
Meta Title
Meta Description
URL
Heading Tags
Body Content
Image Attributes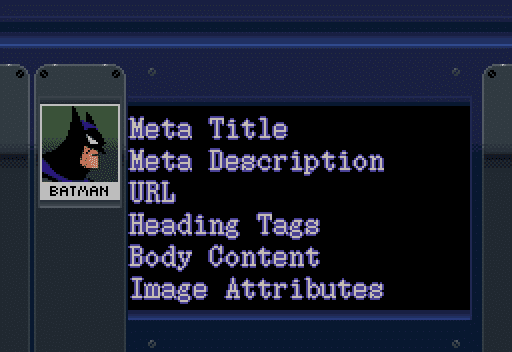 If you put your target keyword at least once in those HTML elements, you can improve the on-page SEO signals for the content and give Google the signals it needs to rank your page for specific keywords.
For example, if you were to go to Google right now and search for the keyword phrase latest SEO news, you would see my website (SEOChatter.com) ranking on page one. And at the time of this writing, it's ranking in the top 5 positions for that SEO news keyword.
Now, if you were to go to the website, you would see that I have optimized those key locations for the phrase "latest SEO news" and because I did it in a particular way, my site is ranking more easily for the term.
Another interesting fact here is that I achieved those high rankings even when my site only had 1 backlink pointing to it.
That example alone shows you why on-page SEO is important and the true power it can offer for your website.
The Importance of Content and On-Page SEO
You've now seen how on-page SEO can help your content get to page one of Google.
And if you based your content around a long tail SEO strategy with easy queries that have low competition, then you can experience faster growth. However, not all businesses want to compete for just the long tail keywords. They also want to rank high for short tail and medium tail keywords.
But in order to do that, you have to high-quality content that meets the search intent of the user in addition to good on-page optimization.
A well-optimized page with low-quality content that doesn't directly meet the user intent will be harder to rank in the top 10. And if it does get there by some chance, those rankings will not last over the long term because Google will measure the quality signals from its users and reduce your rankings if they don't meet a certain threshold.
And the easiest way to figure out how to write higher-quality content is to look at the top-ranking pages on Google for your target keywords and take clues from them. Identify what sections they have on the page and how in-depth they go for each subtopic.
Do the same thing good on-page SEO practices in place, and you can get to the top 10 like your competitors.
Are Off-Page SEO Factors Not Relevant anymore?
The answer is yes and no.
I say yes because you can rank for a lot of highly profitable keywords for your business by writing great content that meets the user's intent and optimizing it with good on-page SEO.
However, you can't always get to the top 10 for every keyword you need. For example, you won't rank on page one of Google for the phrase "car insurance" with on-page SEO alone; it's just too hard of a term to compete for. But you could possibly rank for "car insurance quotes for 2021 Ford Taurus" because it's a long tail keyword with less direct competition.
In the cases where you do your absolute best with on-page SEO and your rankings won't budget, then adding a few niche-relevant and anchor text optimized backlinks can help boost those rankings.
But before you spend your time on outreach and backlink building, you're better off using targeted internal links to boost your internal signals to the web page you want to rank. A few SEO case studies have been done that show for every 2-3 internal links you point to a page, it can equal 1 external backlink.
Of course, the power of those internal links will vary based on the relevance to the target page and how strong those pages are with their own set of backlinks, but it's a good strategy to try before you start budgeting your time and money on external backlinks.
The Bottom Line On The Importance of On-Page SEO
Why is on-page SEO important? As you learned, on-page SEO is an often neglected form of search engine optimization that has a lot of hidden ranking juice. With so many people talking about the power of backlinks, the idea of using on-page SEO gets overshadowed.
But when you do it correctly, on-page SEO can get a lot of your content that's focused on long tail keywords to rank in the top 10 on Google with very little effort.
But before you get started writing your next blog post, be sure to get an SEO keyword forecast by SEO Arcade. It can save you a lot of time and money figuring out which are the most profitable keywords to target on your site. With a keyword forecast, you'll discover the keyword volumes, CPC, potential traffic, conversions, sales, and revenue from that set of keywords to make a better decision for your future content writing strategy.